Talk, Poetry Reading & Performance | Dangerous Thoughts | 19.01.2018
Dangerous Thoughts
19.01.19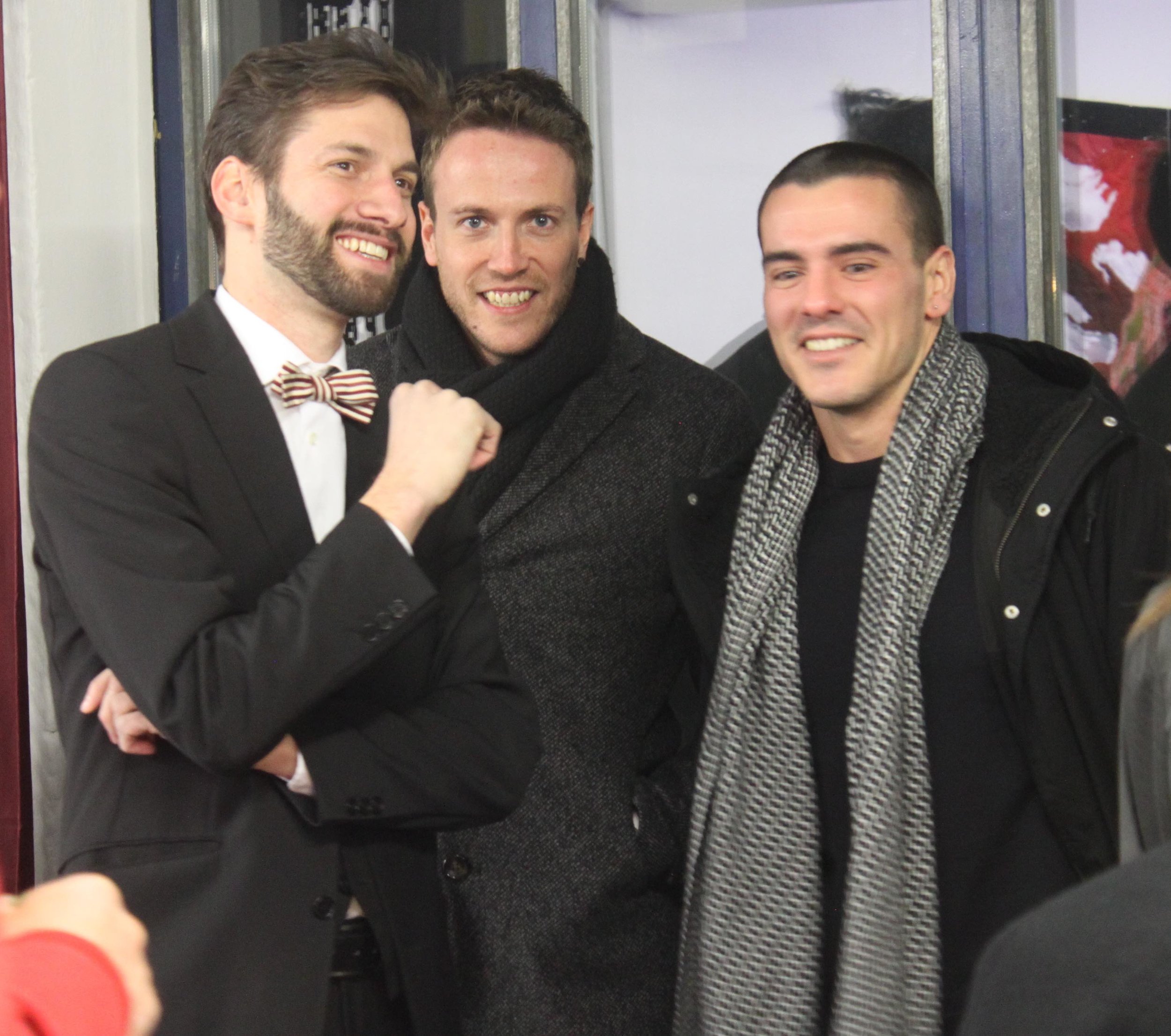 — FOR GERMAN VERSION PLEASE SEE BELOW —
Last Tango is pleased to present Dangerous Thoughts, an evening of wonder and poetics.
18:00 Welcome Note
18:05–18:50 Talk by Katharina Brandl (in English) followed by Q&A
Magical Resistance. Witchcraft and Contemporary Art
Katharina's talk will examine five key reasons for the recent (queer-)feminist reception of and interest in witchcraft in contemporary art. She will present an "incomplete typology" of the phenomenon in order to map out the works of art witches in all their diversity. Furthermore, she will discuss the key differences between the recent "witch trend" in contemporary art and the interest of earlier generations of feminist artists.
19:00 Apéro Break
19:30 Reading by actor René Schoenenberger of poems (in German) by C.P. Cavafy (1863-1933)
"Lascivious Pink Lips of Inebriation"
René will read a selection of Constantine P. Cavafy's poems from the book So Unverwandt Bertrachtet (1997) published by Edition Patrick Frey. Illustrated by Dieter Hall, the book presents the homo-erotic dimension of a poet whom the Times Literary Supplement named "One of the greatest writers of our times."
19:45 Apéro Break
20:00 Interlude 1 by magician Basil Spiess
20:15 Apéro Break
21:00 Interlude 2
Basil's Magical Interludes
Basil will transport us into the world of wizardry. He will perform two short interludes. Experience enchanting stand-up magic up close and ask yourself: witchcraft or illusion?
Biographies
Katharina Brandl (b. 1986) is a researcher and curator; and since January 2019 the Artistic Director of Kunstraum Niederoesterreich in Vienna (AT). She studied Political Science (Mag.) and Art History (BA) at the University of Vienna, as well as Critical Studies (MA) at the Academy of Fine Arts in Vienna. Katharina Brandl has worked in research funding and communications and as researcher, writer, curator and manager in the arts, as tutor at the Department for Art History of the University of Vienna and as guest lecturer at the Zurich University of the Arts. She is co-founder of the Austrian NPO Sorority and was the executive co-director of the feminist festival Business Riot in Vienna. She lives in Basel since 2016, where she conducted her PhD research first at the University of Basel as a fellow of eikones – Zentrum für die Theorie und Geschichte des Bildes, and is currently Research Assistant at the Chair of Art Theory at the Seminar of Art History at the University of Basel.
René Schoenenberger (b.1946) is a Swiss actor. He studied at Otto-Falckenberg-Schule München. From 1966 to 1991 he performed in many theatre plays having for example played Vladimir in Waiting for Godot at Theater am Neumarkt Zürich. He has featured in roles in films such as Das Geheimnis meines Vaters (2006), The Tigress (1992) and Winter Sleepers (1997). His most recent engagements have been in television in series such as Kommissar Dupin (2018) and In aller Freundschaft - Zwei schwierige Herren (2018).
Basil Spiess (b. 1983) is a magician and an architect. His passion for magic and the art of illusion started early in his schooldays when he discovered a book of magic. In 2001, he joined the Magic Ring of Switzerland, the society of Swiss magicians, and since then has been committed to the secrets and development of magic art. In parallel to his career as a magician, Spiess studied architecture at ETH Zürich (2002–2008) and has worked for for Herzog & de Meuron in Basel (2008–13). In 2013 he founded the architectural firm Skop in Zurich.
DEUTSCH
Dangerous Thoughts
19.01.19
Last Tango lädt ein zu Dangerous Thoughts, einem Abend voller Wunder und Poesie.
18:00 Begrüssung
18:05–18:50 Vortrag von Katharina Brandl (auf Englisch), anschliessend Q&A
Magischer Widerstand. Über Hexenpraxen in der Gegenwartskunst
In ihrem Vortrag wird sich Katharina Brandl mit fünf ausschlaggebenden Argumenten für die (queer-) feministische Rezeption von Hexenpraxen und deren aktuell wieder zunehmendes Interesse in der Gegenwartskunst auseinandersetzen. Anhand einer «unvollständigen Typologie» dieses Phänomens wird sie «Hexenkunst» in ihrer ganzen Vielfalt darstellen. Darüber hinaus wird sie die wichtigsten Unterschiede zwischen dem jüngsten «Hexentrend» in der zeitgenössischen Kunst und dem Interesse früherer Generationen feministischer Künstlerinnen diskutieren.
19:00 Pause / Apéro
19:30 René Schoenenberger liest Gedichte (auf Deutsch) von C.P. Cavafy (1863-1933)
"Lascivious Pink Lips of Inebriation"
Aus dem Band So unverwandt betrachtet, erschienen 1997 bei Edition Patrick Frey, wird René eine Auswahl an Gedichten des Ägyptisch-Griechischen Dichters Constantine P. Cavafy lesen. Illustriert von Dieter Hall zeigt das Buch Dimensionen der homo-erotischen Liebe eines Dichters auf, welchen die Times in ihrer Literaturbeilage bereits «Einen der bedeutendsten Schriftsteller unserer Zeit» nannte.
19:45 Pause / Apéro
20:00 Intermezzo 1 des Zauberkünstlers Basil Spiess
20:15 Pause / Apéro
21:00 Intermezzo 2
Basils magische Intermezzi
Basil entführt uns, entsprechend dem Thema des Abends, mit 2 kurzen Zwischenspielen in die Welt der Wunder. Erleben sie charmante Stand-Up-Zauberkunst hautnah und fragen Sie sich selbst: Hexerei oder Illusion?
Biografien
Katharina Brandl (*1986) ist Wissenschaftlerin und Kuratorin. Seit Januar dieses Jahres ist sie künstlerische Leiterin des Kunstraum Niederösterreich in Wien. Sie studierte Kunstgeschichte und Politikwissenschaften an der Universität Wien und Critical Studies an der Wiener Akademie der Bildenden Künste. Bisher verfolgte sie als Kunstwissenschaftlerin berufliche Tätigkeiten als Kuratorin und Autorin, als Tutorin an der Universität Wien und als Gastdozentin an der Zürcher Hochschule der Künste. Sie ist Mitbegründerin der Österreichischen NPO Sorority und war 2015 bis 2016 co-Leiterin des feministische Festivals Business Riots in Wien. Seit 2016 lebt Katharina Brandl in Basel, wo sie am eikones – Zentrum für die Theorie und Geschichte ihren PhD ablegte. Aktuell ist sie wissenschaftliche Mitarbeiterin der Schaulager-Professur am Kunsthistorischen Institut der Universität Basel.
René Schoenenberger (*1946) ist ein Schweizer Schauspieler. Seine Schauspielausbildung absolvierte er an der Otto-Falckenberg Schule in München. Zwischen 1966 und 1991 wirkte René Schöneberger in zahlreichen Bühnenproduktionen mit, so zum Beispiel als Vladimir in Warten auf Godot am Theater Neumarkt in Zürich. Zudem stand er in einer Vielzahl deutschsprachiger Filme und Serien wie Das Geheimnis meines Vaters (2006), Die Tigerin (1992) und Winterschläfer (1997) vor der Kamera. Zuletzt war René Schöneberger in den Fernsehserien Kommissar Dupin (2018) und In aller Freundschaft – Zwei schwierige Herren (2018) zu sehen.
Basil Spiess (*1983) fasziniert die Kunst der Magie und Illusion seit seiner frühen Schulzeit, in der er ein erstes Zauberbuch entdeckte. Im Jahr 2001 wurde er in den Magischen Ring der Schweiz aufgenommen, als dessen Mitglied er sich seither für die Geheimnisse und Entwicklung der Zauberkunst einsetzt. Von 2002 bis 2008 widmete sich Basil Spiess seinem Architekturstudium an der ETH Zürich. Nach seinem Studium arbeitete er während viereinhalb Jahren bei Herzog & de Meuron in Basel, bis er 2013 in Zürich das Architekturbüro Skop mitgründete.